SUBSCRIBE OR ENROLL FOR INDIVIDUAL COURSES

Save up to 30% with a subscription vs. enrolling individually
Cancel anytime when you subscribe
STORIES, ACTIVITIES, & ART PROJECTS
---
I. STORIES - LEARN READING, STEM, FEELINGS & EMOTIONS
1 Storybook per course

1 to 3 On-demand Videos per course

1 Recommended Reading List per course

2 to 5 Audio Recordings (phonic games, audio stories, listening comprehension, focus and attention) per course

Required Materials: Computer or tablet and internet connection
Story Preview - An Alligator Story
---
II. WORKBOOKS & LEARNING ACTIVITIES - BUILD SKILLS
Download 1 to 2 Workbooks per course
30-50 pages per course
Required Materials: Printer, drawing paper, scissors, glue sticks, pencils, crayons, or kid-safe washable marker.
Workbook Preview - Ants & Alligator
---
III. ART PROJECTS - LEARN MATH & INSPIRE CREATIVITIES
Download 1 to 2 Booklets including templates and instructions
Drawing, coloring, painting, mixed media art projects
Required Materials: Printer, arts and crafts supplies
Art Projects Examples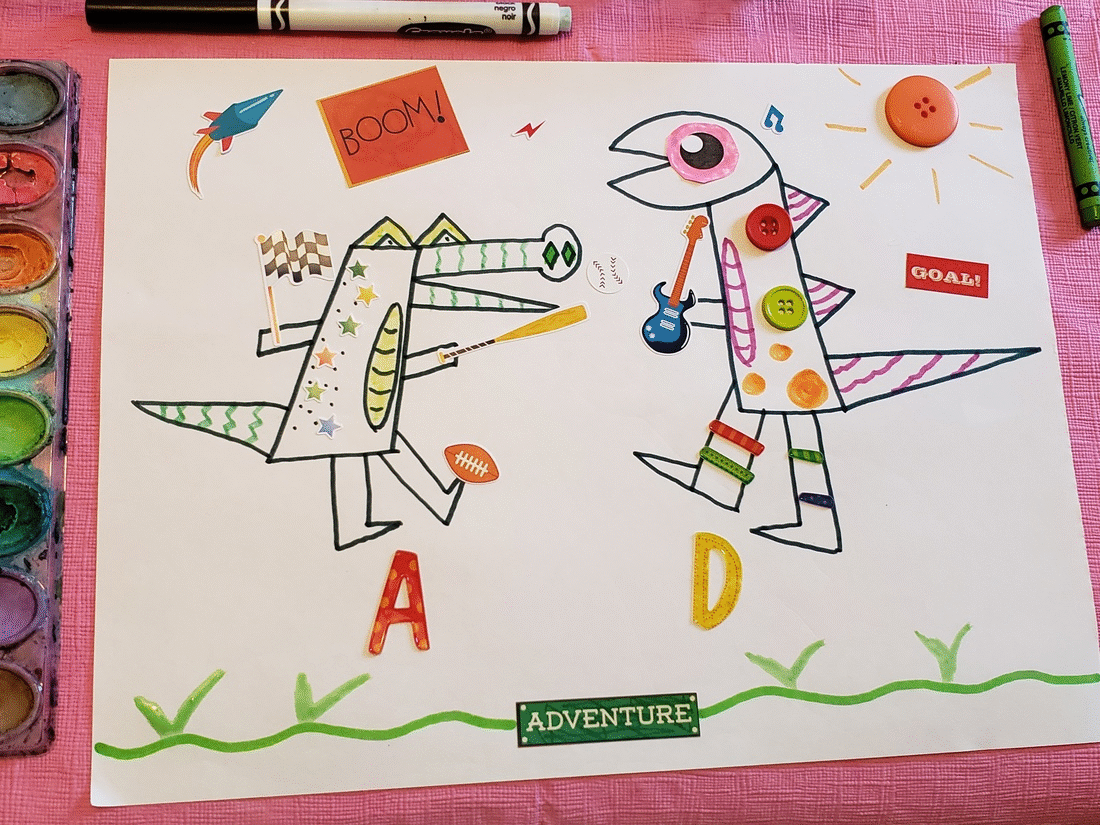 What other parents are saying about M.E.S.S.Y. Learning
"creative" "novel" "charming" "valuable" "wholesome"
"PandaParents is unique in the way that it approaches learning . . . This method combined with child-friendly themes, make PandaParents a fun educational program that my son really enjoys." - Kelly Ann
"teach younger readers valuable lessons without being 'preachy' or 'teachy'. Just wholesome, interactive "messy" fun" – Jhonni
"Each sentence and page packs so much energy and imagery that you really get a bang for your buck" – Karen
"Very creative, charming, and great voice and narrative flow . . . and I think the concept of "messy learning" is one that kids will respond well to. " – April Dawn
Your Child Will Learn Diverse Topics:
Your Child Will Build Various Skills:

Your Child Will Do Fun Learning Activities:

READING & WRITING
COUNTING & SIMPLE ADDITION
TRACING, CUTTING, DRAWING . . .
M.E.S.S.Y. LEARNING FORMULA
Fun for kids and easy for parents/teachers.
---
Mixed pre-school subjects for INTEGRATIVE learning
Engaging questions & activities for EFFECTIVE learning
Simple 1-2-3 steps: Read, Watch, Learn/Create
Smart designs for CREATIVE learning
Yeah, a new way to promote preschool STEM education & early BRAIN growth!
Hey, join us today & get 30% OFF your first course!
function ml_webform_success_7262488() { var $ = ml_jQuery || jQuery; $('.ml-subscribe-form-7262488 .ml-block-success').show(); $('.ml-subscribe-form-7262488 .ml-block-form').hide(); };